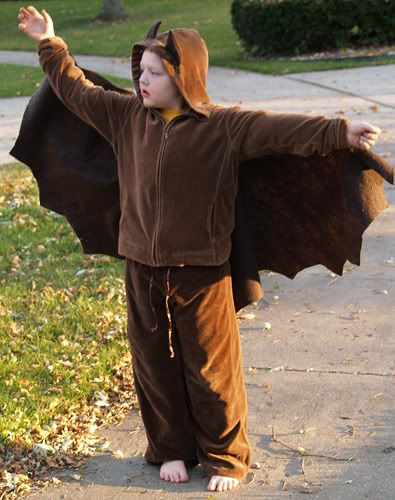 My little fuzzy brown bat
I found a brown velour zippered hoodie and pants in the woman's section of a local thrift store. I had to hem the pants up a bit, and used the extra for the ears. The wings and insides of the ears are craft felt. This was a darn-quick costume and made him very happy.
Our other news is that we finally replaced our disgusting old couch.
I liked this furniture well enough when I bought it in fall 1997. I would still like it, if it hadn't been abused for 11 years by wild, crazy, messy boys. Faithful readers of Bezzie's blog might remember my entry into her Ugly Couch Contest. I didn't win, only because my couch wasn't inherently ugly, just worn out. (But I attracted some interesting comments about the state of my housekeeping.) That old couch and chair aren't even worth Freecycling, so they're at the curb, giving the kids somewhere to play trampoline a few more times before garbage collection on Tuesday.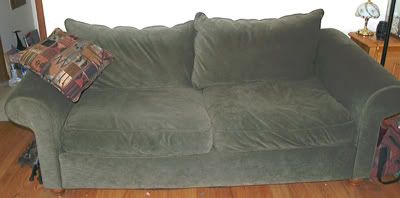 I'd been scanning Craigslist hoping for a good deal on a couch and/or comfy chairs, but was amazed at the bargain I got. This couch, plus a matching big chair and ottoman, plus another big chair (covered to match the throw pillows) with ottoman, all for $200. The really nice guy who was selling it said he had about 12 immediate responses to his posting. Then he added, "I wonder if I priced it too low?" and Mr. SABLE and I both said, "Yes." Because really, we would have called it a bargain to get this very comfy couch for $200, let alone the big comfy chairs and ottomans. The kids are remarkably accepting of the new policy that there will be no eating on the new furniture and no using the furniture as a trampoline.
Knitting progress has been slow and intermittent. The Bourgeois Swing Coat is coming along nicely, but I don't have any pictures to show.