Some spinning: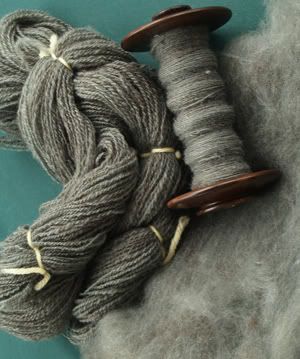 I made the skein in the pic a couple months ago. I've been on spinning vacation for a while but am now back to it, making the rest of this mossy merino/yak, 2 ply fingering weight.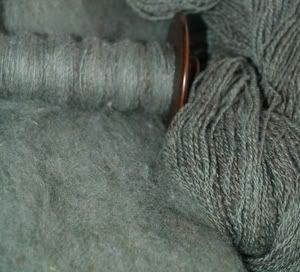 Both these pictures get bigger if you click 'em. This is a kind of hard color to capture with any accuracy.
We're slogging along through spring break, even though it just started! We're in full-blown mud season, which is a necessary evil along the way to
bona-fide
spring. But it makes our outdoor options a bit more limited at a time when I think we need outdoor time more than ever.
On a more random note, I've been musing about the term "stash buster" as applied to various kinds of knitting projects. Not too long ago I saw a hat on a very popular blog described as a "stash buster." This strikes me as a bit comical. After all, how much stash can a person bust with one little hat? I've been thinking about just what it is that folks mean by that term. One meaning could be a small project you can probably make from odds and ends you have lying around. I wouldn't call that stash busting, though. More like a
stash friendly
project. In my mind,
stash busting
would involve using a bunch of different odds and ends in a big project. An afghan made from scraps and partial balls would be a great example.
I'm kind of at loose ends right now in my knitting. I hate getting to the end of one big project without having the next big one planned. Until I settle on the next big one, I'm too unfocused. All the potential projects start duking it out in my brain. Hours and days go by with precious little to show for it. And having my offspring vying for my attention all day every day makes it even worse. I have the itch to create, but I'm stymied in my efforts to get at it.