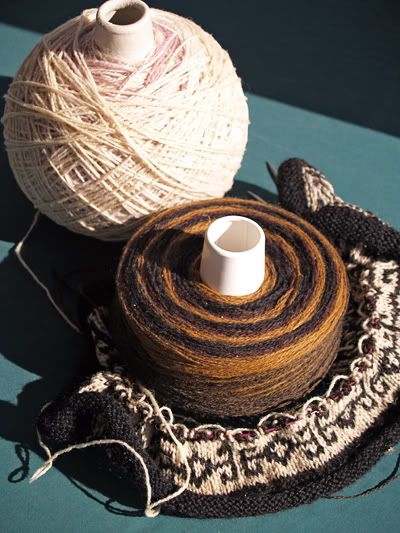 I broke through my knitting impasse and got my next big project on the needles. Perfectionism really is the enemy of creativity. Sometimes you just have to do
something
, anything, just to get the process started. The main part of this should be very simple and, I hope, striking.
I've finished spinning all the mossy merino/yak I had ready. I have more of both parts, but need to get Boris (the drum carder) from my friend Fern (the co-owner) to prep the rest of it. I'm very pleased with how it's turning out. I look at that yarn and think, "Yes, I can call myself a spinner now." And my brain is running circles trying to decide which fiber to throw on the wheel next. I'm leaning toward finishing up a batch of Shetland/black alpaca I bought at Wisconsin Sheep & Wool in the fall. I'm making a nice DK-ish 3 ply out of it. I got about half way through the pound I bought in the fall before I got distracted by other stuff.
Our weather today is just glorious and yesterday was lovely, too. Sad to say, though, that we might get 9" of snow in the next 24 hours!!! Just when we thought it might really be ending. Of course, the days following that will be warming up some, so even if we do get a big dump of the white stuff, it truly cannot last long at this point. Right? Still, looking out the window at the bright blue cloudless sky, it's hard to imagine where all that snow's going to come from.