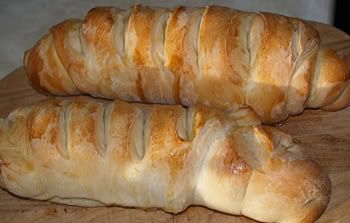 Click to make it bigger. You know you want to!
I've got chicken soup started on the stove and fresh baguettes from bread machine dough. Unfortunately, I'm out of barley which is my favorite chicken soup ingredient. I'll just have to use noodles this time.
We narrowly missed having the snowiest December on record here in Mad Town. 34.4 inches (the record is 35"). Our annual season average is only about 48 inches, so you can see we're ahead of the curve this year. It's a good time to hunker down indoors with chicken-vegetable soup and fresh warm bread.