Regular readers know that I struggle with naming my patterns. Some of them come together pretty quickly and others require input from my readers.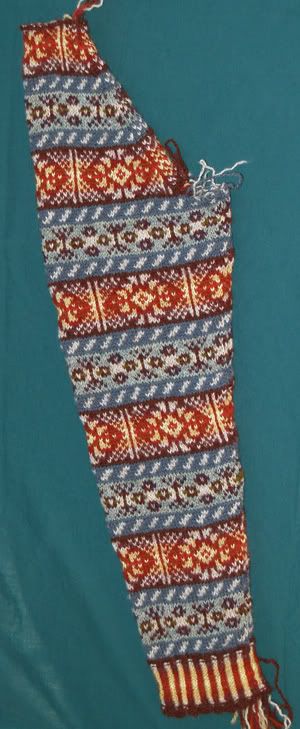 To that end, here's where I stand on choosing a name for the new Fair Isle cardigan.
The colors in it remind me of the play of light on leaves in late autumn, with a steely grey-blue sky. So many of the names that could go with that have been done to death; Autumn Leaves kind of stuff.
So, here's a list of ideas I have so far. I'm happy to hear other suggestions, too.
Prairie Road
Fond du Lac (the Wisconsin place names theme)
Merrimac County (where I grew up in NH)
Cedar Grove (back with the Wisconsin place names)
Sugar Maple (there's a color way in Cherry Tree Hill yarns with this name, but I didn't stumble on any knitting patterns with the same name in a brief search.)
Maple and Birches
The place names theme seems promising, though I think one has to be careful. How would the
Beloit Cardigan
differ from the
Door County Cardigan
? :)
If you have any great ideas, let me know. It's going to be a complicated one to write for multiple sizes, so we've still got a while. I've started playing with the numbers and I think I'll have to offer it in only 4 widely-spaced sizes. This is due to the 28 st. repeat in the largest motif. I'll probably include brief directions for fine-tuning size with small changes in gauge.
BTW, for those of you who wonder what the sleeve looks like before I cut the steek on the cap and sew it in, that's it on the right.