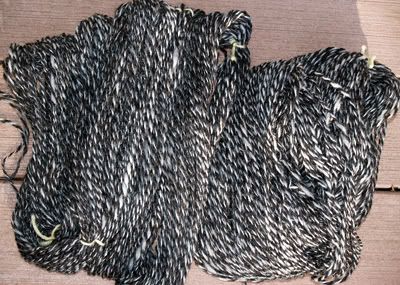 Here's a little pile of the 3 ply black and white marled yarn from the Brown Sheep mill ends. Click it to get an interesting closer look. I haven't quantified anything about this yarn yet, but so far, it's one fairly big skein and 3 mini-skeins and looks to me like a
DK
worsted weight. (edited to add: I made a little sample from one of the mini skeins and it looks good on US #7 needles, getting 17 st/4 inches/10 cm.) I hope to make a bunch more of it.
I'm very nearly done the body on the Fair Isle cardigan: about 8 more rounds. Then I get to figure out how to make my sleeves with a steeked sleeve cap and matching pattern bands from the sleeve to the body. That's one big advantage to drop sleeves. I didn't take another picture because it hasn't changed that much since the last one.
I thought I'd reply to a few comments from the last post.
Peri and others who commented on the school registration: Every year we need to go to each kid's school and stand in long lines to fill out paperwork and pay fees. They used to send home a stack of forms for correction and signature the first day, but I think they had a hard time getting them all back. So, they set up stations around the gymnasium and one must file around handing in the health form, the emergency contact form, the money, etc, and set up a lunch money account (if desired) and check on the bus routes (if applicable). The elementary fees are only $35 a year, but the middle school ones are a shock. A large part of it is rental of the band instrument, which we could avoid if we were willing to buy a bassoon. ;-).
Becky, I think PMS is a big part of my moods, too. I definitely have one or two days a month when I just want to be left alone. My kids seem to sense that this is what I need, so they get in my face even more. Unfortunately, my cycles are so short that I spend two-thirds of my time either having PMS or having a period. No fun.
For all who expressed concern, thank you. If I feel like things are not right once the school year starts and my stress level drops, I'll talk to my doctor. I seldom get depressed in the winter, although I do have an urge to hibernate. But this summer has been difficult weather-wise. I enjoy a nice rainy day, but three weeks of dark dismal rain and being cooped up with my kids, who prevent me from pursuing any creative thing of my own that might buoy me up... well, that's too much. And they fight all the time.
Magatha, I'm glad you could see the humor in my quandary, too. I had a chuckle about it as I realized what was going on.
So, just this week to get through. Then the three day weekend. And then it's my time!