I got the new IK today. On the whole, I think it's a good solid issue, with the usual range of offerings: a few original interesting patterns, a bunch that are rehashes of stuff we've seen before (but quite serviceable), and a few real clunkers. I have a bias against super bulky yarns in general, so Teva Durham and Wenlan Chia don't impress me too much. I was quite taken with the Minimalist Cardigan, the Tangled Yoke Cardigan, the Mirepoix Bodice, and a few others. Most of the patterns would never suit my body type, but if I didn't have the permanently six-months-pregnant-looking belly, maybe I'd consider a few.
One thing I did notice, in a bad way, was this: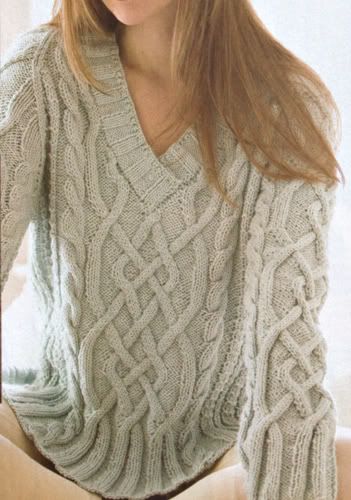 Who can argue with another Kathy Zimmerman cabled sweater? It's not the design I noticed but the sloppy execution.
Here's the detail: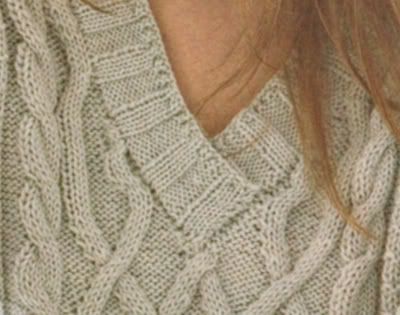 I think those two cable lines that bend outward on either side of the center should have just gone into the neckline and stopped. And the pickup for the collar looks kind amateur to me.
I know that magazines demand incredibly tight turn-around times from designers, so I shouldn't be surprised to see the occasional rush-job on finishing. I wish it could be different.
The other thing I noticed (and chuckled about) was the garment in this ad: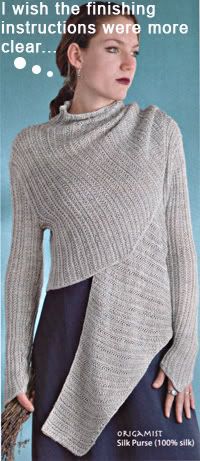 Talk about finishing gone awry! It kind of looks like a straightjacket that missed the mark. Do you think that dangling flap will stay artfully placed
just so
after she moves?
Me neither.