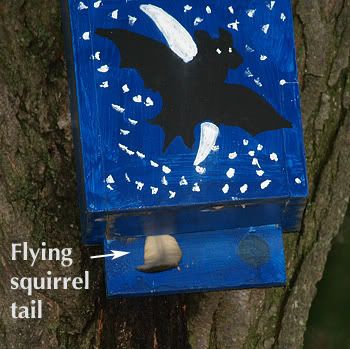 Seen in our back yard.
Edited to add: About 7 years ago my husband and older son built the bat box and painted the design on it. They followed plans they picked up at a state park. It sat empty for the first season or two it was up. Several years ago we saw the squirrel tails hanging out and realized that flying squirrels had moved in. For a while my husband had a little black and white video surveillance camera mounted in the tree and pointed at the box. We ran the cable in through a window to a tv and every night we watched Squirrel Cam. (It had infra-red, too, so we could watch at night.) We put up a suet feeder near the house so we could watch them feed. Our cat kills a lot of flying squirrels (very sad; we find the tails) but we seem to always have a resident family living in our bat box. It's a big surprise to everyone that they live around here and right in the city.
I am counting down the days until Sept 4. It cannot come soon enough.
I've done very little interesting knitting this summer. Or so it feels to me.
Here's the progress picture of the Fair Isle cardigan. I'm most of the way through the body. With a bit of dedicated knitting time, I'll be on the sleeves soon enough.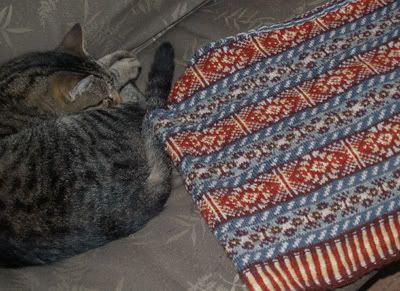 The colors are more muted than they appear in this picture. It's very grey here and I had to use the flash, even out on the porch.
I made a sock for Scott a couple weeks ago, but I need to start that pair again. Sock 1 was too small. He needs a really deep heel flap in addition to a ridiculously long foot. I hope the one I finished will fit Owen, so I can finish that pair and it'll fit someone. Better than having to start all over.
I'm ready for a month-long nap.