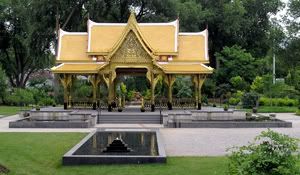 Several years ago the Thai government gave the Pavilion to the University of Wisconsin and it was eventually decided to put it in
Olbrich Gardens.
Read more about the Thai Pavilion
.
I'm especially pleased that my boys love the gardens. They love looking at all the plantings and enjoying the smells. And Owen especially commented on how beautiful the area around the Thai Pavilion is.
Here's the gold detail from the columns.