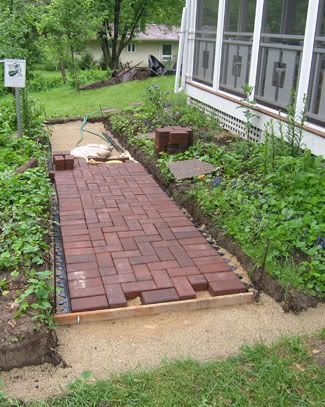 My guys have been making great progress on the path. After this section that runs along the long side of the porch is completed, they will start on the parts that bend around to the back patio and to the front door. Mr. SABLE reports that the brick setting itself goes very fast. The digging really is the hard part. If we had any sense, we probably would have rented a mini-hoe. We might still do that for future Big Digs.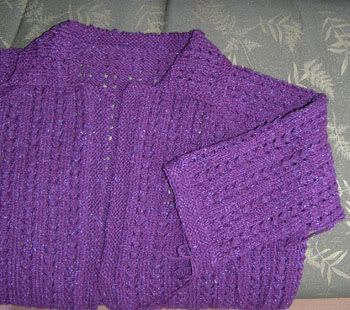 Here's a pretty bad picture of the purple cardigan. (Sorry. Quick'n'dirty and all. That's the trouble with trying to blog before a 30 minute video tape ends.) It's draping off the front of the porch glider and isn't a short jacket: you just can't see the whole thing. I've done all the knitting. I need to darn in ends, sew up the sleeve seams (yes, I worked them flat to avoid changes in gauge), buy some buttons, create some decorative loops for buttons, and wash and block the whole thing. I'm pleased with it and suspect that it will get a lot of use in my sweater wardrobe. When I write it up, I think I'll add an option for gals with large hips to increase under the bustline to get a little flare to cover the hips.
edited to add: I just gave the cardigan a little wash and stretched it out to dry on a mesh rack. I think it will spread nicely where it needs to. The yarn and pattern stitch seem to have enough give in them that I should be quite happy with the fit of the finished piece.