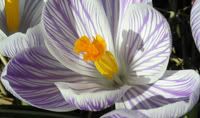 You know it's really spring when the crocuses finally bloom and the noise of birds in the yard wakes you up at dawn. In this case it was one of the many Misters Cardinal who live in or near our yard. The kids have been wearing shorts and t shirts. We can boot them out to romp with almost no preparation. We've been enjoying our porch, eating dinner out there every night. I need to get a good knitting lamp in place out there: the overhead doesn't really cast enough light for my favorite porch chair.
In knitting news, I've been getting serious about a big Fair Isle kind of project. I was writing a post for
The Garter Belt blog
and tried to take pics, but the battery needed charging. (At least we now know where the charger is! Every time!) So, perhaps I can finish my preliminary swatch tonight and take pics to finish the post for tomorrow.
As much as I miss wearing wool sweaters in the warmer months, I'm happy spring is here.