We'll start with the overview
This is my basement lair, where I putter with yarn and fabric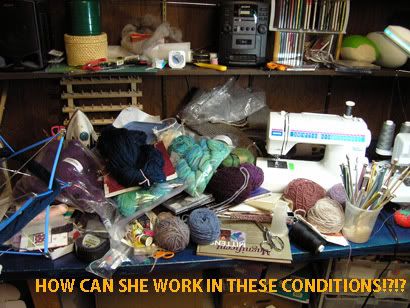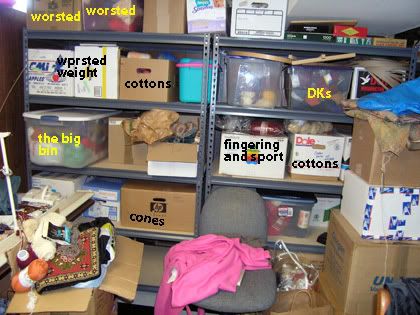 The Wall O Yarn is 8 feet wide, 2 feet deep and about 6 feet high. Many of the boxes and bins are packed tight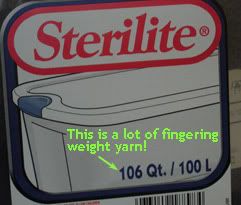 What Does 106 Quarts of Yarn Look Like?
Like this...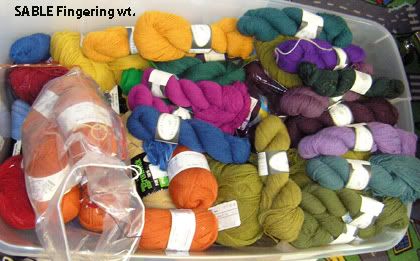 Big Box of Cones
It's all because of WEBS and their great bag price on Jo Sharp
Every stash needs a little Koigu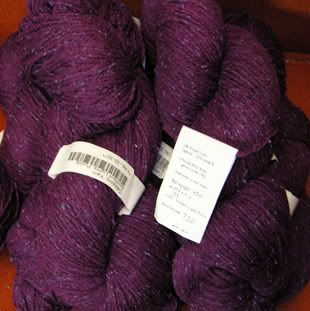 Blackberry Ridge wool/silk blend
recent ReKAL yarn: from a thrift shop sweater, hand-dyed by me and Owen, with Wilton's coloring
Knit One Crochet Too Parfait: lots of a dusky lilac color, six skeins of brown
More Knit One Crochet Too Parfait, a nice blue and a basic grey
Miscellaneous yarns: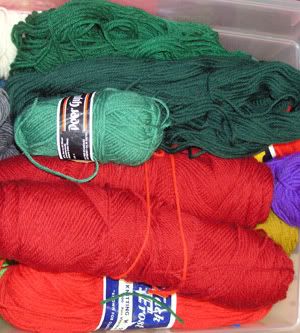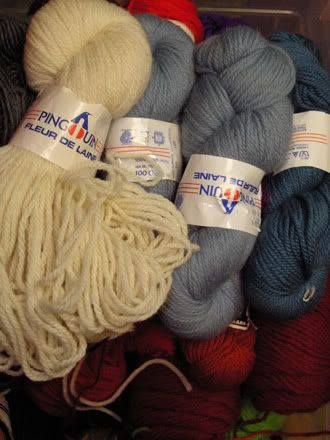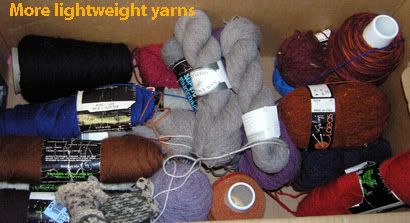 Additionally, here are links to last year's photos that are still part of the stash this year
A whole lot of mohair
Miscellany
Lovely yarn from Harrisville
(where is that hiding right now?)
More mohair
Still more mohair
Classic Elite Tapestry
Schaeffer Yarns merino
Pastel mohairs
Jewel tone mohairs
Manos and other miscellany
Patons Classic
I have more of this now, too.
There's more than this. I just can't dedicate the time and energy to documenting all of it. In my own defense, I'll point out that the vast majority of yarn found its way to me for free or very inexpensively. My grandmother gave me all her mohair, which she bought from a yarn store going out of business sale, circa 1970. My mom and dad found several very large boxes of yarn being thrown out in the aftermath of an estate sale. The thrift shops here have been incredible sources of cheap yarn. So, as bad as this looks, my cash outlay for yarn has not devastated my family finances. Maybe by next year I can prune it back to about 60% of the current quantity. Probably not, but that's a worthy goal.