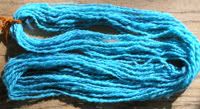 I think I'm really getting the hang of this drop spindle biz. And I'm leaning more toward a wheel. At least doing a little research. Research doesn't hurt, right?
Here's a closer view. Most of this batch is probably around worsted weight.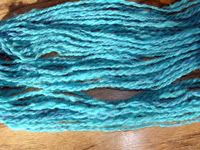 It's just under 22 yards. Still not enough to use by itself, but I'm still hoping to make enough for a hat from the one ball of roving we bought at Rainbow Fleece Farm.
Tomorrow is a day chock full of knitterly opportunities. Last Saturday Knitting in the morning, open house at Blackberry Ridge Mill all day, and the Alpaca Fest all weekend. The safest thing would be for me to sit home and play with the yarn I already own. Well, knitting group is safe because it meets at a coffee shop and I usually make great progress on socks while I'm there. But Blackberry Ridge and the Alpaca Fest are both extremely dangerous! Any co-conspirators with me? Should we make a break for it?