First off, two progress pictures from the basement reshuffle.
This one shows the Wall of Yarn, which is 2 feet deep, about 7 feet high, and 8 feet wide. Most of these boxes are packed pretty tightly. Yep, I have a problem. I am powerless over yarn.
These are my two knitting machines, side by side, under the overhead light. I hope to make better use of them in the coming months.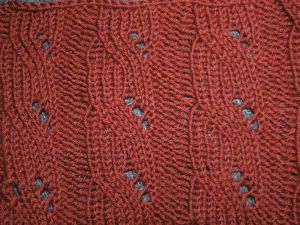 This is a swatch of an idea. I think I'll try again in smaller needles, as this is a little filmy for what I have in mind.
Now, I'm off to Devil's Lake with boys. I hope the name of the lake does not inspire hellish behavior, like the day before yesterday when Colin clonked Owen on the head with a rock.