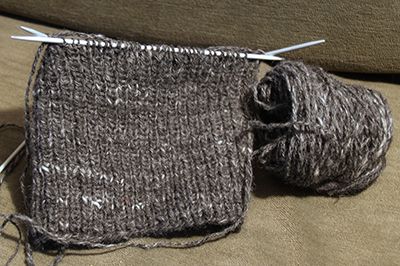 This is Mr. SABLE's handspun wool/alpaca watchcap, about 6" along. I'm using #3 needles, 108 sts, just k1, p1 ribbing. He likes a nice generous fold-up brim.
This is probably a first for me in my spinning: spinning a specific yarn for a specific immediate goal, then actually starting the knitting right away. It's a very cushy yarn, mostly. If he doesn't like it, I know I will.
I also recently finished a sweater for him, but I have to keep that one under wraps for a while. But I'm really pleased with the fit and final result.