Yesterday was nice enough that I actually took some pictures of some of the yarn I've bought over the last couple of months. And I even added some yarn to my stash list on Ravelry. I absolutely do not aspire to have a thorough and complete stash inventory on Ravelry or anywhere else. I don't want to spend the time and energy and I don't think I really want the world to see just how bad it is. Plus, maybe I don't want to really know, myself. Denial ain't just a river in Egypt, as they say.
Anyway, here's some yarn-ography of a few recent acquisitions: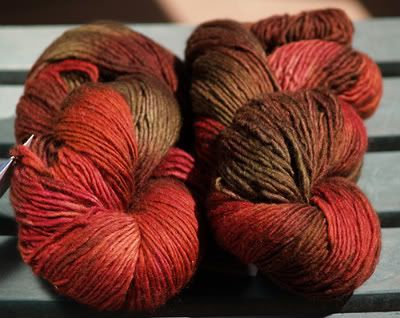 Malabrigo Worsted, colorway Stonechat, bought at the Knitting Tree in Madison.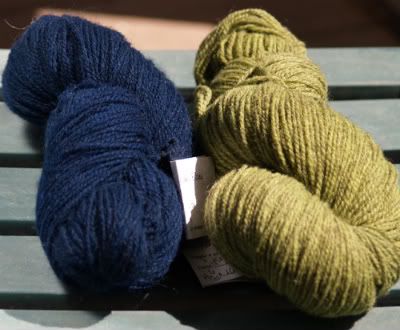 Yarn From the Barn, from Rainbow Fleece Farm. These have 400 yards in 4 oz, work up at about sport weight. I think they may become a stranded hat and mittens.
Also from Rainbow Fleece Farm, 85% Targhee Fleck Wool/15% silk. I have 9 oz in all, at 350 yards/4 oz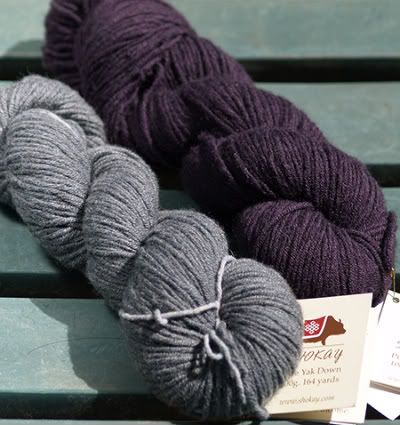 Shokay Yak Down. I splurged on this at The Sow's Ear's spring sale. Even at 30% off, it was still an indulgence.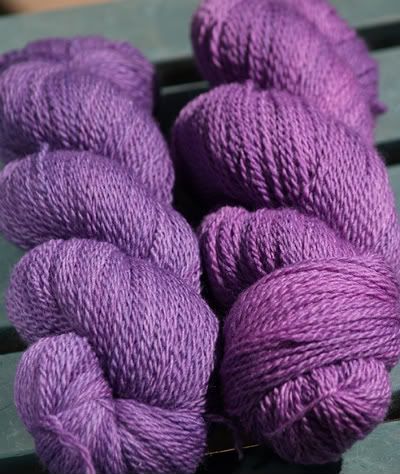 LittleFreak Sport from
CableFreak's ArtFire shop
. These are organic merino sport weight wool. They are two different purples, which I thought might be more different than they turned out to be. It will be more challenging to make them work together in one piece than I originally hoped, but I have ideas about that. The base yarn is wonderful and her dyeing is terrific.
Now, I should actually go knit or something, eh?