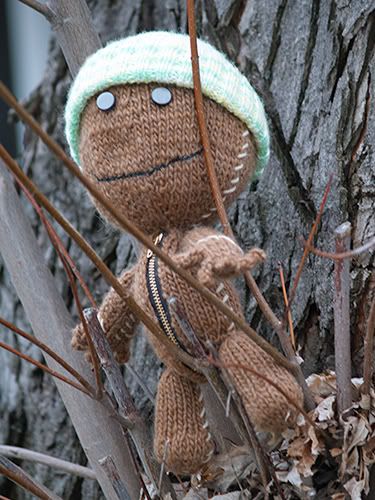 The younger son wanted me to knit him a Sackboy for Easter. Never mind that I've been trying to get away from turning everything into another gift-giving occasion. It was something I could make from things I already have lying around the house. Except the metal zipper.
Details:
Sackboy Pattern
by Alan Dart.
Yarn: Brown Sheep Lambs Pride Worsted, color Wild Oak (had in stash
forever
).
Needles: US #5
Stuffing was from a toy Sponge Bob my husband eviscerated to make a Sponge Bob suit for one of his robots (don't ask).
The buttons were in stash and the embroidered details are from odds and ends.
The hat was one I made years ago from some cheap-o acrylic in a thrift shop grab bag. I thought I might make baby hats for the hospital, but then Owen got a hold of the hat for a stuffed bear, and it was buried in his room for about 12 years. The hat surfaced in a recent purging. It fits Sack Boy very well.
In addition to this, I've been working on a new stranded knitting project, which I hope to finish up for the August 1 Knitcircus (Issue 7), and I've been assembling Issue 6, which should get mailed in very early May.