Not like I needed more stash, but a gal's gotta do these things sometimes.
One of the folks I see often on Ravelry has just set up shop as an indie dyer. I hope she'll be able to make a go of it with her hand-dyed yarns, so click on over to her shop:
LittleFreak Yarns
. Look, she even included a couple of nice stitch markers with my skein!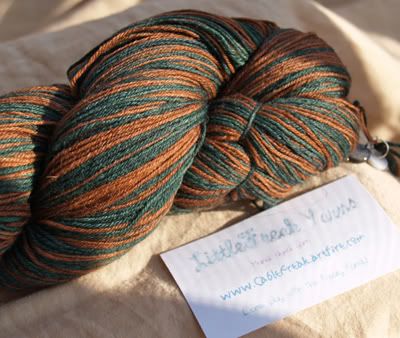 This colorway is called
Inference
. You'll notice a lot of her color names are a bit unorthodox. Many of them have been named after running jokes on the Ravelry Rubberneckers forum. She put up a good selection of yarns, from vivid to subdued, pastel to saturated, for the opening. Hurry on over before the good stuff is gone. (Don't worry: there'll be more!)