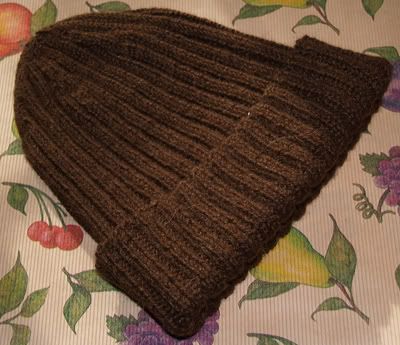 Ok, it's not the most awe-inspiring knitting ever, but, hey, it's knitting. This is a hat for my brother. Just a basic watchcap, 2 x 2 ribbing, over 120 stitches. This is Blue Sky Alpacas 100% alpaca. It took most of two skeins because I wanted a nice generous fold-up brim. This yarn is so soft and warm, I might need to make one for myself!
Here it is on Owen:
And then, I cast on for another hat for Owen. We've had some hat attrition lately, plus his head has grown to what I think will be his final adult size.
This is Gjestal Superwash Sport, worked on #3 needles. Just a basic 1 x 1 ribbing, worked on 108 stitches. I'm getting a little worried that it might be too small, but I think it'll stretch nicely without being tight.