I've been piecing a quilt top for Owen the last couple weeks: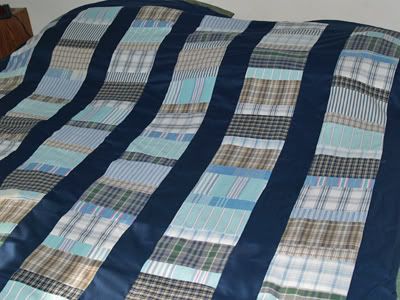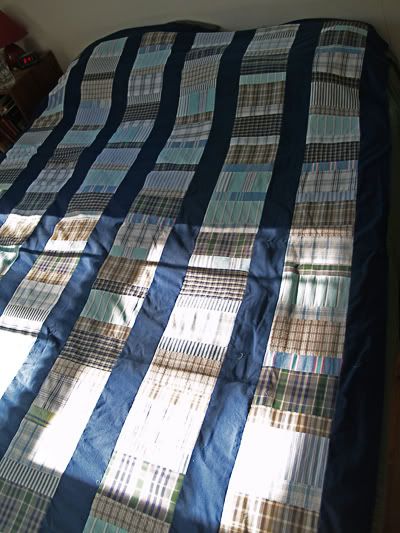 I plan to send it out to be machine quilted because otherwise, it will end up as a permanent UFO. One woman I found online charges about $75 on an average twin size quilt, which is a pretty good deal considering the hours of my life I would spend (not to mention the frustration) if I tried to do it at home. I did notice a business here in Madison with a sign in the window advertising "Machine Quilting" so I'm going to phone them up today and see what they say.
I made this quilt top from a lot of Mr. SABLE's old plaid and striped shirts that had ripped out at elbows and pockets and such. I also picked up a few more shirts at Digger's Outlet to throw in a bit more diversity in the color scheme.
There has been knitting, too, but I have to keep that under wraps a while.
In other news
Today is the Little Emperor's seventh birthday. Hard to believe how fast the time has gone!
Our lives are stressful these days. Mr. SABLE has some employment uncertainty ahead. His company wanted him to move to way-southern NJ by Sept 30. He decided that he really wasn't willing to go to those lengths to stay with that company. He's hoping to find other employment that keeps us in the Madison area soon, but he's considering jobs quite far away, too. As it currently stands, his last scheduled day of work is Sept 30, so after that, who knows? There is a severance package for those not willing to relocate, so we should have a cushion for a few more months after that, but it's a lot of stress and anxiety for us right now. Stay tuned.