The spinning of the last few days
This is 3 ply from the Brown Sheep mill ends; wool and mohair. I didn't ply the earlier yarn I made from this as tightly as I did this, so not sure how well it will all work together in one project. You can see some of the earlier effort in the upper left of this picture. I'm considering running the older skeins back through the wheel for a bit more twist, as I've come to realize that I'd been under-plying my yarn up until about 3 weeks ago. Of course, there's so much fiber waiting to be spun, maybe I should just move forward from here and not try to go back and fix earlier efforts.
Last night I went to the knit night party at
The Sow's Ear
. They had a big turnout and I saw a couple of my favorite local blogger/knitters,
Molly B
(whom I'll never manage to call by her correct name), and
Dale-Harriet
. I met Dale's delightful daughter, Mary, and chatted a bit with Heather B. Also bought the Interweave Gifts issue (LOVE the cover hat!), the new Spin Off, and a couple big balls of locally made roving in wonderful subtle shades of grey, black, blues, and purples.
Today, I'm happy to report, The Little Emperor seems well! Hallelujah! His voice is almost normal, fever is gone, and appetite and energy levels are returning to normal. I hope we don't get any more bugs like that one this school year.
Also today, I went to the supermarket and stocked up on
everything
. Spent $175! That ought to hold us a little while.
While I was out getting pictures of the handspun yarn, I noticed a monarch working the butterfly bush flowers: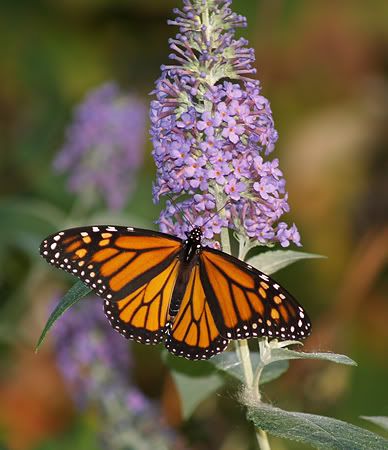 I got about 6 good images before she flew away.