Never one for patience, I had to sew in the one sleeve I have done and get a peek at how the shoulder/armscye shaping worked out.
Two front views: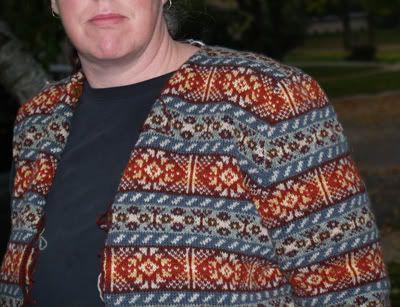 and a back view:
I think it looks pretty good. I had to introduce the cardigan to my good friends June Tailor (she's such a ham!) and Mr. Steam. After a nice blast of Mr. Steam while June supported the shoulder area, it looks very professional, if I do say so myself.
I cast on for the next sleeve yesterday. Then bands and a collar. Maybe I'll be done by Halloween.