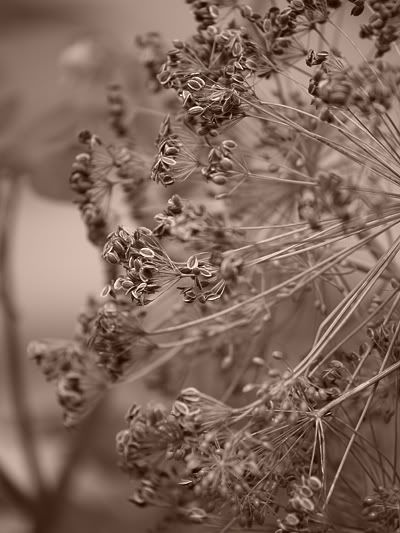 This is a photo from earlier in the fall. I'm pretty sure it's the dill by the back step: it looks like dill to me. But there are some other things around that look similar in the seedy stage.
I spent the whole day in the basement lair wrestling many yards of moss colored fabric into the shape of a long hooded robe/cape kind of garment for Owen's Halloween costume. It really ought not to have taken so long, but my serger is giving me all kinds of grief, which really slowed things down. Bah. And it was a glorious day here. I did get out of the house, to the supermarket, but somehow, that didn't really count. I planned to get out and take pictures, but somehow, never got to that. Tomorrow, the knitting updates and the costume, for certain. And maybe some more scenes from a late autumn garden.
I'm in some kind of strange funk the last couple of days. When I was in college and tried to run with a cool crowd, there were times when I had a sense that everyone else was at the party without me. It's like that. That vaguely dissatisfied sense that my whole lot in life is not quite what I planned on, and not really in a good way. Which is a lot of hogwash. Yes, not what I planned on, but really, that's good. What I planned on was dying young from the fallout of my extreme lifestyle, not living to be fat, middle-aged, and a mom. So, I'm suffering from what my sane self thinks of as high-class problems. This is kind of a late autumn thing for me. My birthday approaches and I get that melancholy reflection on time and mortality and all that angsty stuff. It seems a little worse this year, maybe because 46 is the entry point to the Late 40s. Really, still the Mid 40s. and really, still pretty young in the scheme of things. But knowing 50 is just around the corner kind of freaks me out.
I'm becoming vaguely anxious about my parents as they get older. They're in great health, but they're starting to talk about the end times of their lives. I still think of my mom as about the age that I am now: how can she be 21 years older than that?
When you're 25 and have all those infinite years stretching out ahead of you, it's hard to imagine how quickly they start to pass, how soon they start to seem finite.
So, enough of all that. Good thing Thanksgiving comes soon and I can be prodded toward gratitude.