I've been working on lots of quasi-stealth knitting lately, so not a lot for the blog. Also, I've been writing an article for the next Knitcircus that actually took a bit of research, so that had most of my attention last week. The knitting is a race to the end of the school year, after which it's a total crap-shoot whether I can get much done until September.
I did get a pleasant little treat in the mail the other day: two sample skeins from The
Green Mountain Spinnery
. They've agreed to give us a bit of yarn support for Knitcircus. I'm going to design something from one of these yarns for Issue 8, which will come out in October. Not sure yet what, as I'm knitting frantically for Issue 7 right now.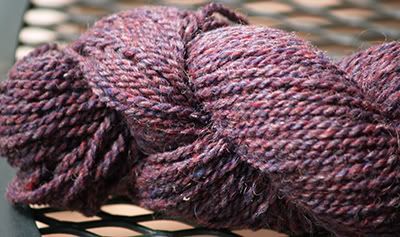 This is Yarn Over, which the Spinnery creates from various left overs in limited edition colors. It's a 2 ply heavy worsted wt, mostly wool with a bit of mohair.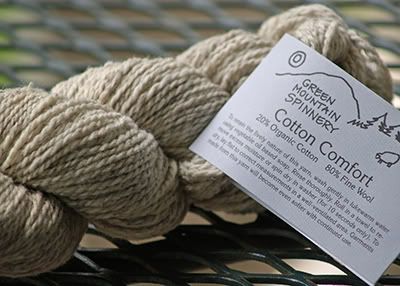 This one is Cotton Comfort. 80% wool, 20% organically grown cotton. It's a 2 ply DK weight.
I'm eager to get my fingers into both of these, but have to stay focused on the projects already on the needles.