August 2: We set out from home. We began looking for lodging on the far western fringes of the greater Cleveland area. No lodging. We tried at least 15 hotels over 4 major intersections. Eventually were told there was a Twins Convention in Twinsburg OH and that there was no lodging until Pennsylvania. So we pressed on to the Pittsburgh Area. We were thrilled to get a room at a Comfort Inn near the airport at about 1 a.m. While I was booking the room a young woman, looking exhausted, came in and wondered, barely daring to hope, if there were rooms. I asked her if she, too, had been traveling across Ohio. Yes indeed.
The next night we stayed with my sister and her family in their funky old house in Pittsburgh.
We had a hard time getting the Little Emperor to sit for a family picture. Kate's husband was the most consistently photogenic of all of us.
From there, we drove on to Treman State Park near Ithaca NY. The kids loved swimming in a natural pool and under the waterfall.
Owen and I hiked down the gorge, which was still a bit strenuous because sometimes you have to go up to go down. We showed Owen the house we lived in when he was born. It was a short stay and went pretty well. Our second night was rainy, so we had to pack up wet camping stuff to drive to NH.
On to New Hampshire where we saw my folks and swam at our favorite top-secret pond. My mom and I went to the League of NH Craftsmen annual fair. There were a few truly remarkable artists, a lot of work that looks like all the others, and a few real duds. But fun to look.
August 10: on to Quebec.
Not long after we crossed the border, a seagull committed suicide on our windshield. It was a terrifying moment, but neither humans nor van suffered any damage.
We stayed at Chateau de la Terrasse, the middle building in this image:
The structure to the right is the US Consulate.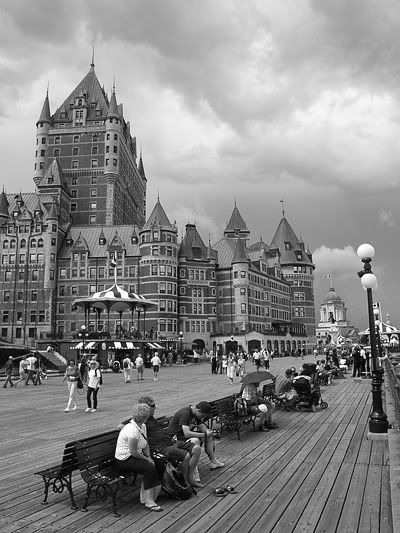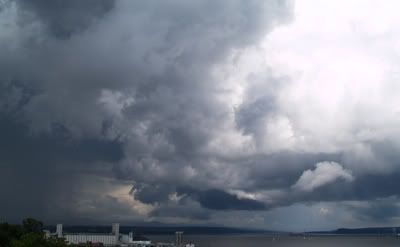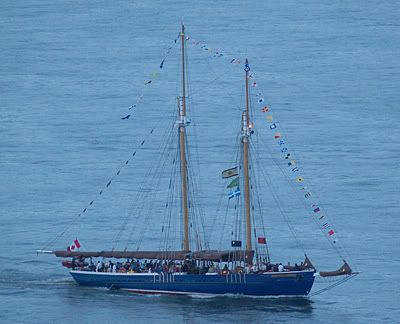 A ship on the St. Lawrence at dusk.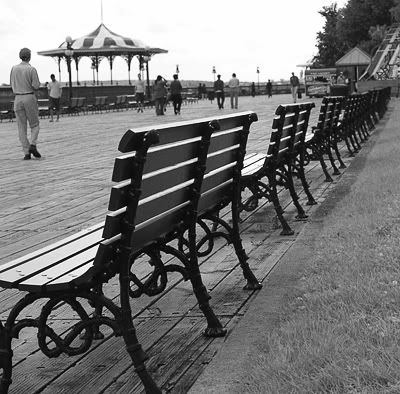 Benches on the boardwalk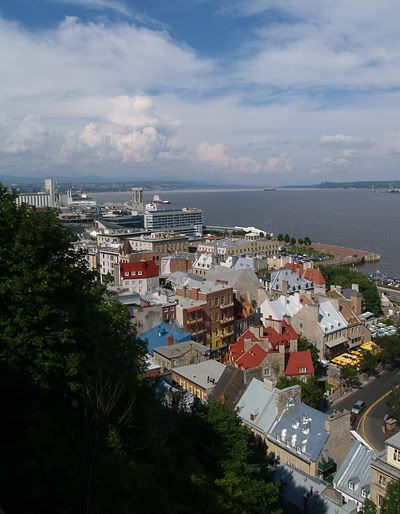 Petit Champlain, as viewed from the Terrasse Dufferin.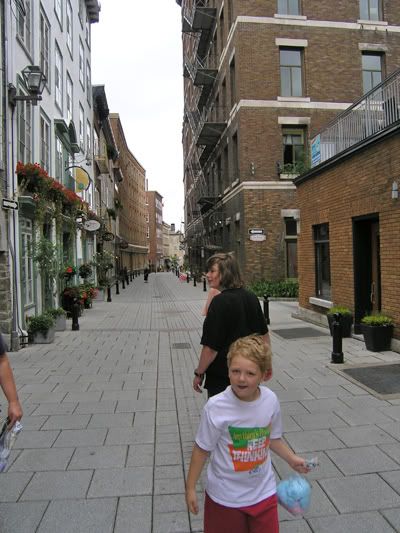 On our way to the Old Port area
Near the Old Port, we explored the Ephemeral Gardens, an interesting sort of art space constructed for the 400th anniversary. This mirrored graffiti house was one part of it:
Then we went to the farmers market to buy some veggies and cheese. While there, we had crepes, prepared by a nice woman and her two daughters.
Cannons are just play equipment in Quebec nowadays.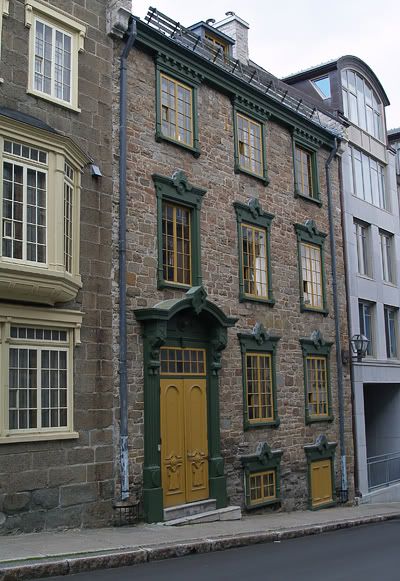 I just really liked this house.
During a light rain, I was knitting on the little front balcony of the hotel. Two different American tourists stopped to take my picture! And then, a wild looking older man stopped and stared for several long moments. Eventually, he told me that I reminded him of his mother knitting back in Ireland. Hmm.
We had some very dramatic clouds in Quebec. Indeed, there was a tornado someplace in the province that day! It rained on and off, and we watched the lightening over the evening sky in Levis across the St. Lawrence.
Long Drive Home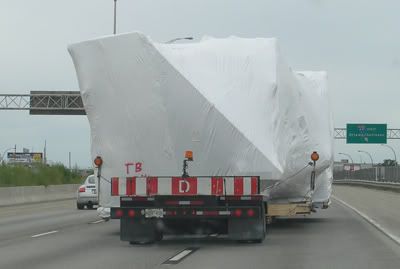 Near Ottawa, we saw this Really Big Thing on the highway.
We stayed in Pembroke Ontario.
Upper Peninsula, Manistique MI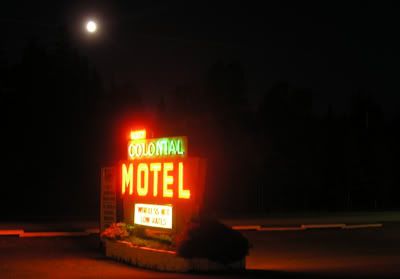 Manistique in da Moonlight
Somewhere between Manistique MI and Green Bay WI, we took a little break at a wayside park. The Little Emperor dove right into the sand.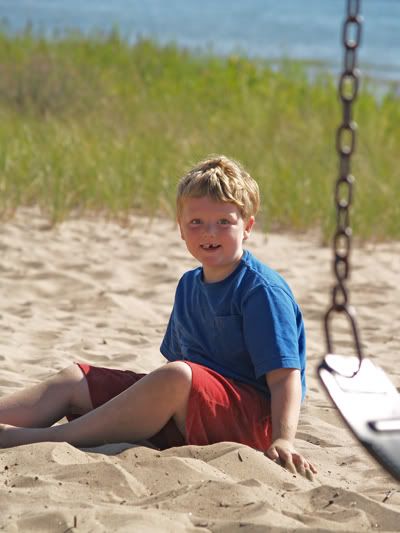 Finally, on August 15th, Home Sweet Home.