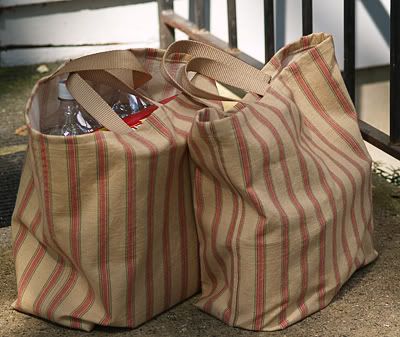 Taking my cue from Bezzie (whose rant
here
on the so-called "green" reusable grocery bags got me thinking), I made these two cloth bags yesterday. I had bought a small stack of the green pseudo-cloth bags from my supermarket last winter, at 75 cents each. Although they stand up to more use than a paper bag, they have started to self-destruct. Rather than replace them with more of the same, I decided to put some stashed fabric to use. I bought the fabric at a thrift shop in Quincy IL over a year ago, thinking it would be nice for
something
. I just didn't know what. I have enough fabric to make at least 4 more bags this size, which is a bit smaller than a standard paper grocery bag. I need to buy more nylon webbing, though.
I've been working on turning a few older projects into patterns for the fall Knitcircus. We plan to have it available for purchase by Oct 1. I'm also working on a new project for that, but might not finish in time. That's ok. We can use it in Winter, and we've had great submissions, so we have enough good material for fall.
In Other News
We're counting down to the beginning of the school year. The little guy starts second grade on Tuesday, Sept 2, and Owen starts 8th grade on Wednesday the 3rd. We're having all kinds of behavioral issues with the little guy, but I have to say, Owen has suddenly crossed into a new mature, mellow version of himself. I'm keeping my fingers crossed that this isn't just a phase for him. I never would have believed that there would be a time when I would call Owen "mellow".
I did send Owen's quilt out to be machine quilted at the local place. I have no idea what I'll get back, but it should be coming soon. They charge about $65 for a twin size, and have stock patterns that their machine does. I'll still need to put edging on when I get it back, I think. For local folks, this is a funny little building on Regent Street, probably a survivor of the great Greenbush Urban Renewal of the 1960s.
We're still in limbo on Mr. SABLE's job front. He had a chat with a VP at a small start-up last week. He felt very positive about that and it could lead to a job offer soon. He's also encouraged that if he has to do free-lance stuff for a while, there are a lot of people in town who can throw him some work. The downside to that plan is health insurance, but it would be income. Time will tell. Stay tuned.
I hope to see all my local buddies at Last Saturday Knitting on the 30th!