We are about half way through the winter break from school. Having cleared Christmas, we have cleared the worst of it with our kids and their seasonal craziness. Mr. SABLE is taking this week off from work, so we have a lot of unstructured time, which can be both good and bad.
Earlier this year, I accepted a meme on Facebook: agree to make a handmade
something
for someone, and they agree to reciprocate, sometime before the end of 2009. I'm getting down to the wire on 2009, eh? I keep getting ideas of things that would be fun to make, but then, talking myself out of actually doing them, thinking the recipients won't like the result. Finally, I just had a moment of inspiration and made these handwarmers for my friend Leslie: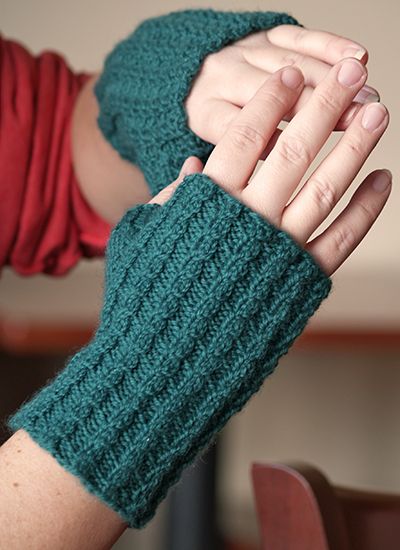 They are from Brown Sheep Nature Spun Sport, color Monument Green. US #3 double point needles. It's a very simple twisted stitch. The pair weighs 28 grams, so you could definitely get a pair out of one ball. I was working off a cone that Heather at
The Sow's Ear
bought for me on deep deep deep discount. It's nice to have friends who manage yarn stores. Although the finished mitts are extremely similar to an existing pattern, I'm probably going to write mine up and make it available free. I use a different number of stitches and have a different thumb treatment from the existing pattern.
In Weaving News
Owen wanted to make a project on my loom after he saw my first scarf. (See previous post.) I had a bad feeling that he wouldn't really have the follow-through for something so contemplative and repetitive. It's not that I want him to fail, but I've seen him start a lot of fiber-related projects over the years and never complete any.
We warped the loom with some sport weight acrylic yarn I had acquired along with a larger batch of cones of wool yarns. Sure enough, Owen lost interest after about 2". I took over so that I could free up my loom for my projects and get some practice, too. By the end, my selvedges were much more even.
Here's Mr SABLE modeling the finished scarf: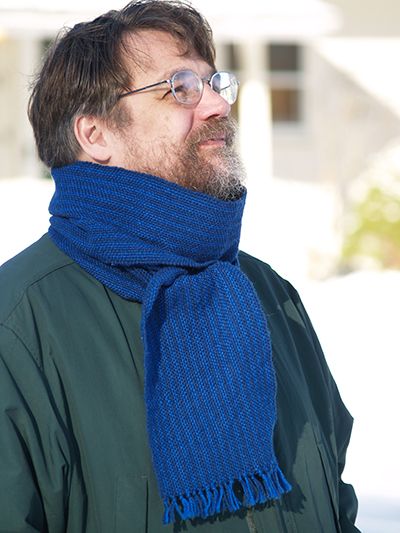 Even though it's baby-melting acrylic, I still think it turned out pretty nice.
I hope you all are enjoying the last few days of 2009. We have abundant sunshine today, but cold. It's nice to look out at the fresh snow sparkling on the ground from a warm vantage point indoors.