I figured I better post some actual knitting content, including photos, before some of the web rings I'm in start disqualifying me.
I donated blood this morning and rewarded myself with a trip to
The Sow's Ear
in nearby Verona. I had Colin in tow, which meant that I had to placate him with a cookie and do my yarn shopping FAST. I bought a skein of
Blackberry Ridge
wool and silk laceweight yarn to make a little lacy scarf. Although it's lighter weight than suggested for
Branching Out
, I decided to to give that a whirl. Then I can post pictures of my progress along the way and everyone will know what it's supposed to look like, and I don't have to waste 5 weeks trying to invent the perfect simple lace scarf pattern. Here's the first progress picture: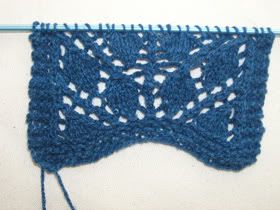 I realized that I was doing one of the double decreases a little wrong, but straightened that out. All you experts will spot the errors: the rest of you will just have to wonder.
The other current project is a top-down raglan in Donegal lambswool tweed.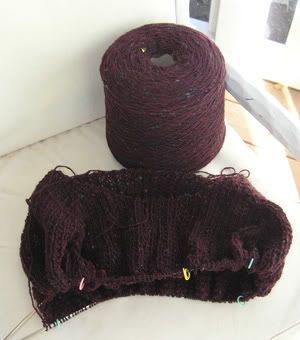 This yarn changed a lot after washing, so I'm basing all my decisions about the size I need on the washed swatch. The pattern stitch tends to spread a little more than plain stocking stitch, which might work out pretty well for me for the raglan shape. Often, I need to add rather a lot of stitches under the armpits to get around the bust zone when my length is correct for raglan seam shaping. This time, I suspect I'll just be needing an inch or two under each arm.
I'm still itching to launch into a complex color pattern soon, but haven't had the undisturbed time to really play with color and pattern. Lately, I feel like all my time is being scheduled by circumstances beyond my control. I don't like that feeling but what can I do? Colin missed preschool on Tuesday (intestinal distress) and I went with Owen's school to a field trip all day on Wednesday. Thursday evening went to see a dying friend at the hospice center. Today I donated blood. All these are important things to do and attend to, but it makes for a crowded week. It's not like I can tell my friend that he picked an inconvenient time to die. I'm sure he'd agree, as he would have enjoyed having a few more 24 hours on earth. And as I type that, I look out the window facing east and see a beautiful, almost-full moon rising in the pink evening twilight.
I'll sign off with two more photos.
Owen's first effort at needle felting, two geese
A view of the nearly finished porch with the table on it