After all the flurry of work, getting the next issue of
Knitcircus
ready for the printer, it's hard to believe I have other stuff to show you.
My friend Jim asked me to make him a hat based on my Iron Mountain hat quite a while ago. He picked out the colors from yarns I had in stash, and I started late last winter. Then I parked it. Finally, I dug it out and finished it up. (Shown here on The Little Emperor.) Yarn: unknown stash yarns, around sport or DK weight.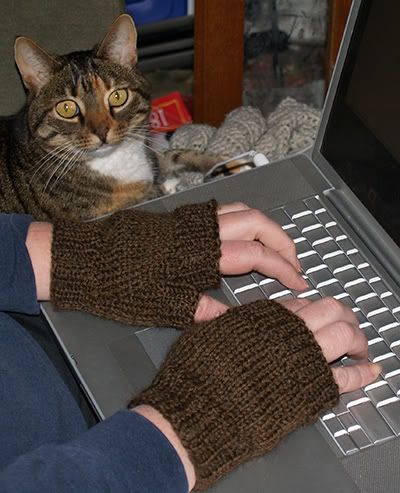 While I was getting all the formatting done on
Knitcircus #5
, I noticed that my hands often got bone-cold while sitting at my computer for hours at a time. And I thought, maybe after all this time being the last hold-out, I could get in on this trend. So, the world's quickest project: a pair of wristwarmers.
Yarn: Brown Sheep Naturespun worsted wt. superwash. Color: Sable (naturally!) that I picked up in a swap at alt knitting camp last summer. (Thanks Kathy!) On my next pair, I'll make the wrist cuff ribbing longer. For most other women, I'd make these a bunch narrower.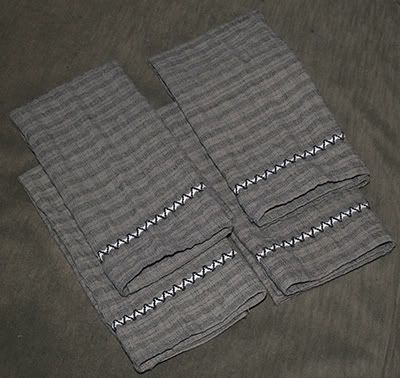 These dishtowels are just a silly little filler project. I found a dress in the bins at Diggers Outlet last summer (all textiles, $1 a pound!) that was really ugly in the sum of its parts, but I liked the fabric. A nice seersucker in a grey-green kind of cotton. As it turned out, I also had a baggie full of cards of vintage rick-rack from a different thrift shop jaunt. This black and white rickrack just seemed to go so perfectly with this fabric.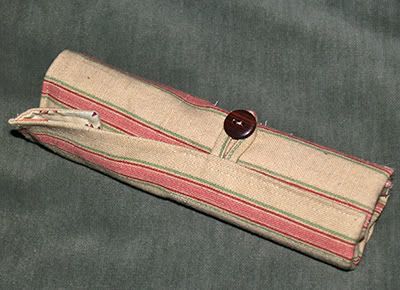 Another quick sewing project...
Yesterday, I was pawing through all my knitting needles, trying to get sets together and organize them in some retrievable way. It occurred to me that I need another double point case. After digging out the rest of the striped fabric (seen in some shopping totes a few months back), and some remnant heap quilting cotton, I made this one.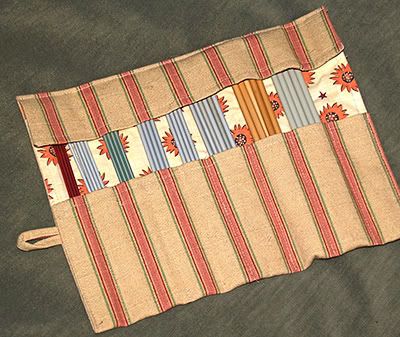 The concept is very simple. Two rectangles, one of lining and one of main fabric. Sew together, right sides together, leaving an opening for turning. Don't forget to get your button loop inserted in the seam! Turn, press, fold over ends. Topstitch flap in place. On the other side, sew parallel lines to hold needles. Sew on a button.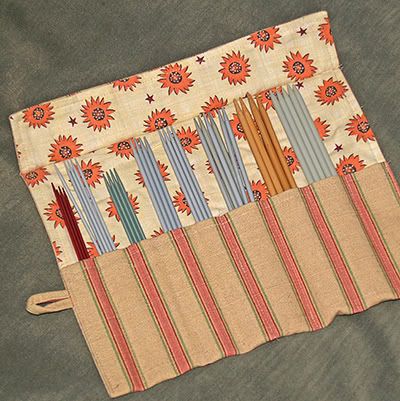 Voila!