Alternate post title: The Longest Four Ounces of My Life
To say I am quite pleased with myself wouldn't go nearly far enough. I've finished up with most of the 4.1 ounces of 70% merino/30% tencel roving, dyed by Sandy of Sandy's Palette, that I got at the Alpaca Festival. I haven't measured yet, but I think this qualifies as lace weight.
edited to add: measured approx 720 yards in about 100 grams. Skinny!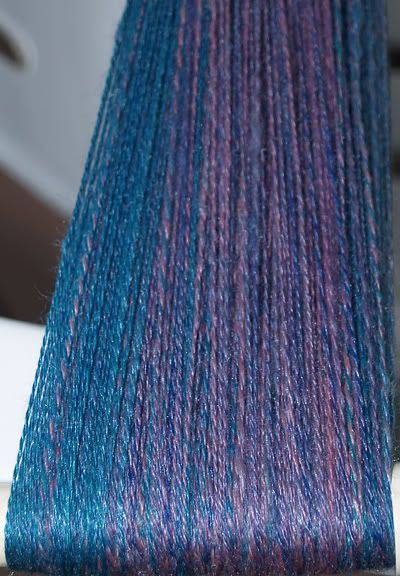 On the Niddy Noddy
The Money Shot
This was a very slow spinning project. The fiber needs constant vigilance because the moment I let down my guard, the strands would slip on through my fingers. It was definitely a learning project.
The plying alone took hours last night. I took these photos before-bath. I'll do more on a brighter day, once the skein is washed and ready to pose.
Meanwhile, here's an iris: